Photo Gallery
Posted on
Paintsville, Ky., store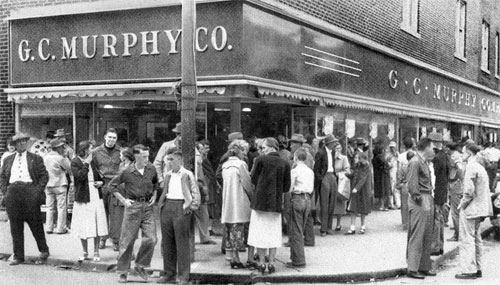 Dean Messer of Paintsville, Ky., sends along this photo and a note:

I'm attaching an old photo of the G.C. Murphy store that was such a large part of our community and my life.
I have no date as to when the photo was taken nor who took it. This photo has been circulated for years and has appeared on calendars and a host of other things.
I have so many fond memories here as a child and as an adult growing up in the area and coming to this store, if for nothing else, but to see friends and relatives and visit. This store had the finest snack bar that was ever created. Everyone in my family loved ordering Hamburgers and fries and the all important Fountain Coke. My mother and Aunt would only drink Coke that came from there.
The building still stands and has served many different purposes. To date it is being use as a antique shoppers mall, with many different vendors. The lady in charge is trying to restore as much as she can of the building when Murphy's was the primary occupant.
All the original door fixtures and the large Murphy letters on the outside are gone, but she hopes to find as much as she can, it is part of the Downtown restoration project.